Descrizione del prodotto

Application

Suitable for indoor as well as outdoor parking area
Parking lots, toll gate, goods yard, railway crossing, commercial premises, apartment block access shopping malls, hospitals, stadiums, business centers,etc.

Technical Specification


Description

Parameter

Working Temperature

-40ºC

~

+75ºC

Voltage

220V±10%, 110V±10%, 50/60HZ

Rated power

80W

Relative humidity

≤90%

Remote control distance

≥30m

Net weight

60kgs

Arm Speed

1s, 1.8s, 3s, 6s

Max boom length

8 meters
Ordering Information
n
Ordering Code
| | | | |
| --- | --- | --- | --- |
| Model No. | Open/Close Speed | Max Boom Length | Boom Type |
| WJDZ10216 | 6 seconds | 6m | Straight boom |
| WJDZ10213 | 3 seconds | 4.5m | Straight boom |
| WJDZ10211 | 1 second | 3m | Straight boom |
| WJDZ10226 | 6 seconds | 5m | 90 degree, Articulated boom |
| WJDZ10223 | 3 seconds | 3m | 90 degree, Articulated boom |
| WJDZ10236 | 6 seconds | 5m | 180 degree, Articulated boom |
| WJDZ10233 | 3 seconds | 3m | 180 degree, Articulated boom |
| WJDZ10246 | 6 seconds | 4.5m | Two-level, fence boom |
| WJDZ10256 | 6 seconds | 4m | Three level, fence boom |
n
Arm Installation Direction Option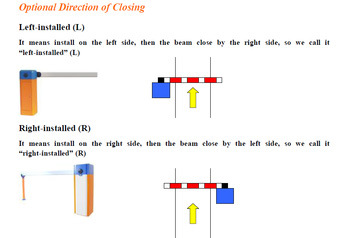 Optional Barrier Arm
Features:
Advanced Features:
1.
Safe---the barrier will automatically go back when meet obstacles during closing.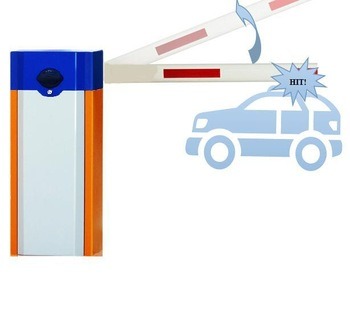 2, Swing Out---Arm will swing out when hit directly by vehicle (only 1 second model ) to avoid further damage on the vehicle.
3. Clutch key can be used to release the clutch when power off.
4. Fan cooling machine reduces the motor temperature by high frequency using, and never get over-heated. Unique temperature calefaction design for low temperature using prevents freezing in cold weather.
5. Exactitude aluminum alloy die-casting motor base reduces the noise and joint abrasion to prolong the barrier gate working life.
6. Thimble type motor worm design for preventing plugging up in using.
7. Balance spring--- no noise and easy adjusting.
8. Double limit ways (electronic limit and motor sensor memory limit) for boom rising and falling.
Basic Features:
n
AC motor is more powerful and no maintenance.
n
Boom can be chosen from 3 meters to 6 meters, and barrier closing time is also arranged from 1 second to 6 seconds.
n
All the operation process is soft without any noise and shaking.
n
Infrared photocell interface, Loop detector interface and IC system interface are reserved for the other functions.
n
Green light and red light are used inside for indication the position of the boom.
Barrier housing Dimension
Study and strong housing 2.5 mm thickness mild steel, Housing is polished, phosphorized and further finished with plastic coating to ensure long lasting bright colors
Model: WJDZ102 Dimension: 330*285*934mm
All Product Tests Before Delivery:
WEJOIN utilizes advanced testing equipment and various testing methods in all production processes.
Certification:
WEJOIN product manufacturing and testing are conducted in rigorous conformation with ISO international quality management system standards, allowing our company to be ISO certified. Meanwhile, our products have earned CE marking and more than 80 patent rights.

Company, Factory and Showroom
WEJOIN Science & Technology Park, which spans 12,000 square meters and offers a combined floor area of up to 28,000 square meters, boasts of a most completely independent production line compared with the same industry in China.